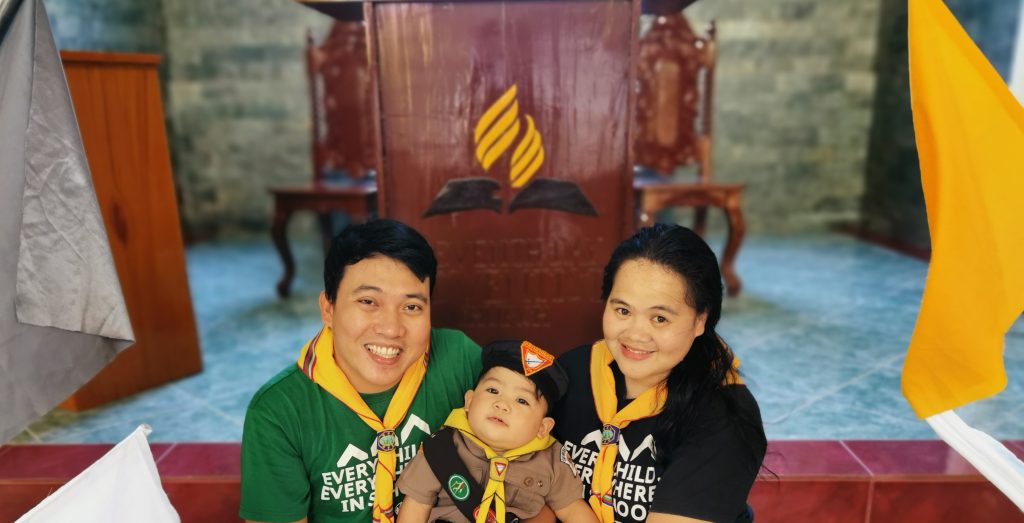 The ADRA office in the Philippines is very active when it comes to responding to disasters. But the last several months have been extra busy with not only typhoons, but earthquakes, fires, and a volcano eruption. When the news of the Wuhan going on lockdown due to the corona virus in January, the office had just finished responding to the Christmas Day Typhoon Ursula and were currently responding to the Taal Volcano Eruption. With a disaster happening so close to home, our attentions weren't focused on this Pandemic that was headed our way.
Little did we know that in 6 weeks, on March 12, the Philippine President Rodrigo Duterte would call for an Enhanced Community Quarantine to be imposed on the National Capital Region (Metro Manila) from March 15 to April 14, 2020. This caused a domino effect where people rushed to get out before public transport would be halted and flights cancelled.
One of the ADRA Philippines' staff, Mark Morta was in the island of Masbate conducting relief operations, and was scheduled to fly back to Iloilo via Manila on March 17.
Here is his story of how he got back home.
---
I was starting my distributions in Masbate on March 12 when the President announced the Community Quarantine and that all flights to and from Manila were going to be cancelled starting 12:01am of March 15. We had originally planned to have the distribution over a span of 3 days, but due to this new update, we finished it in 2 days and took the last boat from Masbate to Albay (where Legazpi Airport is located) on March 14.
While traveling back to Albay from Masbate, my flight back to Iloilo had been rebooked. Due to the time constraints and fully booked flights, instead of transiting through Manila, I would be flying out of Legazpi on March 15, and will be transiting through Cebu to get home to Iloilo.
As we reached Legazpi, new updates came that different regions had also began to declare their own Community Quarantines and both Cebu and Iloilo were going to start their Community Quarantines on 12:01 of March 16. My rebooked flight was on March 15 at 6pm, and it gave me enough time to touch down Cebu, but my connecting flight to Iloilo was still the following morning on the 16th, after the deadline.
So another dilemma arose.
I was at the airport by 8am on March 15 even if my flight was still at 6pm, because I wanted to be updated as soon as possible if my flight from Cebu to Iloilo would get cancelled. It was nerve-wracking to wait.
At that point, the country office had suggested a different option. Based on what happened in Manila where all the flights after the deadline got cancelled, the probability of me getting stranded in Cebu was high. Instead of flying home, why not be driven 8 hours to Batangas Port, and from there take the overnight ship directly to Caticlan, Aklan which is on the same island that Iloilo is on.
So we decided to go with that option and take the Batangas-Caticlan route instead.
An ADRA driver assigned in a project close to Legazpi came and drove me more than 400 km to Batangas. I arrived at the port at 5pm where I met with another ADRA Staff who had brought an ADRA Vehicle from the Country Office for me to transport back to Iloilo before lining up to buy a ticket. Since there was only 1 boat leaving at 10pm that night (all other ships were already cancelled), I was praying that there would still be room for one vehicle to board.
That's where my next dilemma arouse.
I was informed that only health care personnel and residents of Aklan were allowed to board.
Since there were also more than a hundred of Iloilo residents at the port that were trying to catch the boat before the deadline that weren't allowed to board, I was praying that the authorities would relent.
But after trying to bargain and plead to be let on the boat for several hours, I gave up. With a heavy heart, we drove to the country office, which was just 2 hours away.
It was then that thoughts of doubt began to creep in. What if I couldn't get on the boat the next day? What if I got stuck in the Country Office for the duration for the Quarantine period?
I was worried for my wife and baby daughter that I had left at home for more than 2 weeks already. What if I can't go home for a month or two? What if any of them got sick and I was not there to take care of them?
My baby was supposed to be celebrating her birthday in a few weeks. That would mean she would be celebrating her first birthday without me.
That night I pleaded with the Lord, but ultimately ended my prayer with, "Thy will be done Lord".
I was able to sleep knowing that everything was already in God's hands and that whatever happens, I was confident that God was in control.
I traveled back to Batangas port the next morning and tried to purchase a ticket. At first, they were asking a lot of requirements such as certifications and permits to travel. After showing them my documents, they still want a confirmation that I was really residing in my target destination (because my driver's license had a different address as my place of residence). I had to make a phone call and let them talk with the Municipal Mayor of Ajuy, Iloilo to convince them.
After that call, I thought that everything was already settled. But then management asked for a letter from the Provincial Governor of Iloilo requesting that I be allowed to board.
So I had to call the country office again. The local church conference in Iloilo City and they assigned someone to go to the Provincial Capitol to talk to the office of the Governor to secure that letter.
Finally after a few hours of waiting, I was allowed to board the boat. It was only then that I finally relaxed. I was on my way home.
I arrived in Caticlan, Aklan the next morning, and drove home to Ajuy, Iloilo.
When I arrived home, I didn't go near my family because of the home quarantine requirement for those who came from travel, but I was happy and at peace because I can still got to see them every day.
I remembered Matthew chapter 6 that says, "Therefore I tell you, do not worry about your life…" indeed the words of the Lord are true. Like the Israel of old, they trusted in the Lord far more, worried far less, and got a lot more. My prayer was answered, I was blessed to go home.