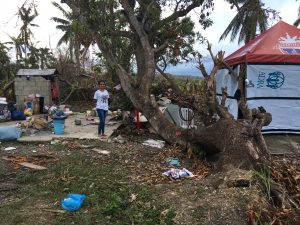 Typhoon Mangkhut (local name: Ompong) hit the Philippines last September 15, 2018, with maximum sustained winds of 205 kph near the center and gusts up to 285 kph. This typhoon caused landslides, damage to buildings and homes, and intermittent loss of power in northern Luzon. The areas affected were largely agricultural, and disruptions in agricultural production in the affected areas, including on staple food rice and corn, will negatively impact food supply for the following months.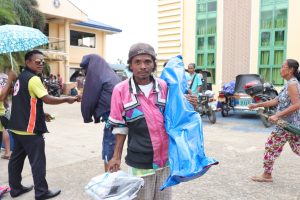 Since September 15, The ADRA Emergency Response Team (ERT) has distributed 1,047 shelter kits and 1,190 food packs throughout the municipalities of Ballesteros, Lal-lo, Sta. Teresita, Camalaniugan, and Buguey in the province of Cagayan, and in the municipality of Flora in the province of Apayao as part of the ADRA scaled-up National Emergency Management Plan (NEMP) response. Another 2,300 food packs is expected to be distributed in the Cordillera Autonomous Region (CAR) within the next week for the ADRA Network Response.
We would like to thank all of our donors for your generous help that has been pouring since the typhoon hit. Let us continue to pray for all those that have been affected as they try and rebuild their homes, livelihoods, and lives.