For residents of the municipality of Ajuy in Iloilo, sustaining a new livelihood venture can often be difficult. Lanie Dianseen, a 53-year-old mother of three, runs down some of the costs: "Every day, there's travel expenses, food, and then training."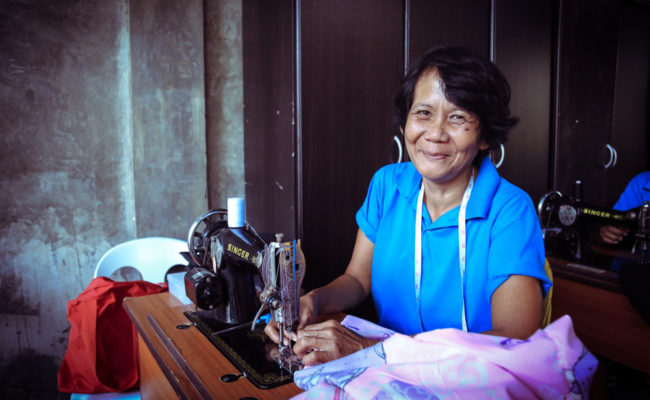 Lanie is part of a community association that has been receiving advanced dressmaking and sewing training with the help of ADRA Philippines. All members of the DSWD's Pantawid Pamilya anti-poverty program, Lanie and her fellow participants do not yet have the resources to shoulder the costs of starting a business. Sometimes, even finishing the preliminary training is a challenge.
"The lack of financing for materials, food, and transportation are the usual obstacles for training participants," notes Michelle Mones, who leads the training sessions. Michelle knows these obstacles well; she also trained Lanie and other beneficiaries as part of an earlier sustainable livelihood program under the DSWD. Strapped for cash but eager to make the most of their new skills, Lanie and eighteen others crafted a proposal to secure advanced training and much-needed equipment for their association.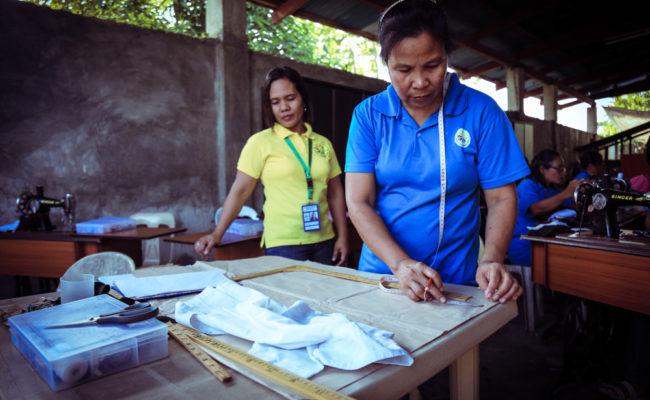 In response, ADRA Philippines has tapped the St. Nicholas Training Institute to help the association refine their skills and translate these into a steady and successful business. This initiative is part of the REAP Project, which aims to establish sustainable and resilient livelihoods for communities ravaged by Typhoon Haiyan.
"NGOs like ADRA provide more extensive support than we usually get from the government," explains Michelle. Recalling how far her students have come, she enthuses, "When they first started out, not everyone had sewing skills. But the DSWD program taught them, and they improved a lot. Now, with this new opportunity, they're better equipped. They'll succeed as long as they work together."
Sustainable livelihood programs offer Ajuy's residents valuable opportunities to rise up from poverty. One in five families live in poverty across Iloilo, according to the latest report from the Philippine Statistics Authority. This is based on the 2015 poverty threshold, or the minimum income a family needs to earn to meet its basic needs. For Iloilo province, the PSA pegged the threshold at Php 11,111.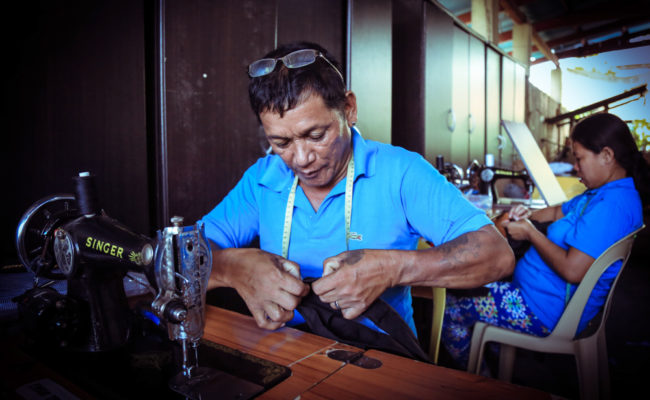 That threshold is often too distant to cross for residents like Emilio Teneso. The only male participant for these sewing trainings, Emilio has joined in the hopes of earning additional income for his family. He is the sole breadwinner for his wife and seven children. Before these trainings, his only source of income was his work as a barangay tanod (community patrol), which earned him a modest salary of Php 1,200 per month.
"I am not yet an expert, but I'm happy to be able to sew clothes now, like pants and polo shirts," Emilio says. "ADRA has helped us a lot through these skills trainings and given us a chance to escape poverty."
Aside from covering the costs of materials and training, ADRA Philippines supplied equipment such as high-speed and zigzagger sewing machines to boost the association's production capacity. ADRA has also secured a plot of land for the group, and construction is now underway for a shop that will serve as their base of operations.
Lanie and Emilio are both looking forward to the opening of their association's new facility. With ADRA Philippines, Global Affairs Canada, and ADRA Canada bringing the REAP Project to Ajuy, residents like Lanie and Emilio can begin sewing their own successes.