[vc_row][vc_column][vc_single_image image="2613″ img_size="full" alignment="center"][vc_column_text]Eleven (11) towns in Cagayan, whose primary produce is rice, were submerged in floodwater when the tail-end of a cold front caused continuous heavy rains in Northern Luzon. This cold front later developed into Severe Tropical Storm Quiel (International Name Nakri). 
ADRA, in partnership with the Northeast Luzon Mission of Seventh-day Adventists distributed 550 Family Food Packs to the municipalities of Allacapan and Abulug in Cagayan on November 18, 2019.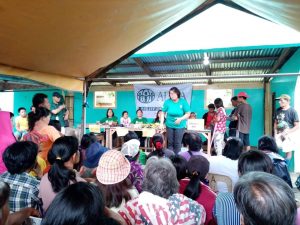 The distributions were scheduled the day before but because Tropical Storm Ramon was expected to make landfall that day, the distribution was postponed to the following day. When Ramon slowed down and didn't make landfall, and with Tropical Depression Sara following quickly behind, ADRA decided to distribute the next day, to avoid spoilage of goods as well as equip the residents for the incoming storms.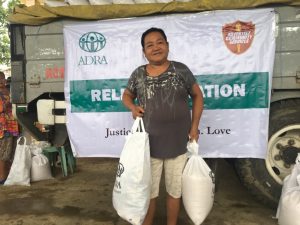 When 59-year old Remedios Daliri from Allacapan, Cagayan shared that flood water that entered their house was about waist deep, she said that it lasted for 3 days before subsiding. Though most of their clothes and furniture got wet, it was a good thing their refrigerator was spared because that her son was able to carry it to the more elevated section of the house.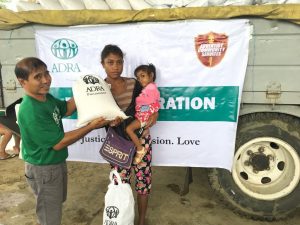 Mae Alilam's experience was different. Her husband is small vegetable and fruit farmer who plants his crops on the mountainside. When the floodwaters began to rise, Mae got scared that it will reach their house. She was relieved when the water began to subside before it did only to discovered that most of their crops, which was not only their source of income but also their source of food, was gone.
Both Remedios and Mae were able to receive the Family Food Packs from ADRA on November 18, and were grateful for the items they received. 
"Nagpapasalamat kami sa lahat ng aming tinanggap mula sa ADRA, at lalong higit sa Panginoon. May makakain kami ng mga 4-5 araw."  says Remedios (trans: I am grateful to God for everything that we received from ADRA. We have something to eat for 4-5 days.)
"Malaking tulong ang bigay ng ADRA, mga 2 weeks bago eto maubos" says Mae. (trans: These items given by ADRA will really help us because this will be our food at least 2 weeks). 
The family food pack contains: 
10 kg rice, 
1 L cooking oil, 
2 kg mung beans, 
3 canned sardines in tomato sauce, 
3 sardines in oil
24 pcs cereal drink, 
7 pcs pancit canton (instant noodles)
ADRA is thankful for the partnership with the Adventist Community Services of the Northeast Luzon Mission that was able to facilitate the quick and efficient procurement, repacking, and distribution of the Family Food Packs to the municipalities of Allacapan and Abulug in Cagayan. 
[/vc_column_text][/vc_column][/vc_row][vc_row][vc_column][/vc_column][/vc_row]