Both Monico and Raquel are recipients of the the ADRA Family Food Packs that were distributed on December 18, 2019 in Brgy. Imelda, Mondragon, Northern Samar. They are neighbors whose homes were washed away during Typhoon Tisoy.
Part 1: Raquel Adora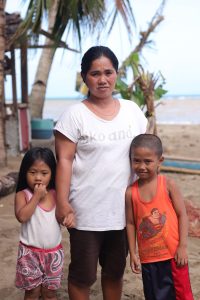 Raquel Adora is 38 years old and a mother of 2 kids living in coastal Brgy Imelda, in the municipality of Mondragon in Northern Samar. Her husband works in a gasoline station in town, and she tries to augment his income by selling fish. Her home was located side the river outlet adjoining the sea and when the typhoon was at it's strongest, she decided to take her 2 kids and evacuate her home and go to the barracks where her husband was staying because the rain and strong winds caused the water level to rise, threatening to washing her home away in the strong current. Before leaving, her neighbor advised her to move as much stuff as she could empty house nearby. "I told her to move their things just in case the storm is stronger than expected. It was a good thing that the owner of the house is currently in Manila, so the house is empty" said Monico Reyes, Raquel's 70 year-old neighbor.  It was a good thing she did because when she returned after the storm has died down, there was nothing left of her home. It was totally washed away. "Even if our home was washed away, I'm so thankful that we were able to save our things. It's really a blessing that there was a vacant house here so we have a place to stay right now. Because nothing really is nothing left" shared Raquel. 
Part 2: Monico Reyes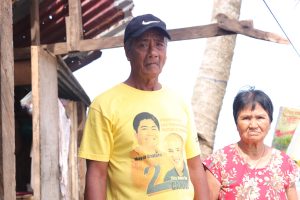 Monico Reyes is a 70-year old man living alone with Mina, his 66-year old wife in Brgy. Imelda in the municipality of Mondragon in Northern Samar. They had no kids or grandkids with them, and had very little income aside from the fish that Monico tries to catch in his small boat. Monico was closely monitoring the path of Typhoon Tisoy, and when the barangay officials came and warned them to prepare because that Northern Samar was going to be directly hit, he took note and began tying down what he could. His house was made of concrete, but because it was located at the water's edge, he knew it could be dangerous, so he decided to move some of his furniture in the empty house behind theirs. "The house was empty because the man who owns it is in Manila. So my and I transferred some of our things there to keep it safe." Monico shares. 
He also advised his neighbor, Raquel, to also move their things there, because like his, her house was also at the water's edge. When he saw that she was alone with her 2 kids, he also helped her move the things. "When the storm was at its strongest, I was trying my best to hold down the roof of my house to keep it from blowing off, but it was too strong." Monico said while showing where his wounds. "We was just crouching in the kitchen after the roof flew off, and praying that the wind would soon stop" added Mina.
"Then we heard a loud crash."  They didn't know that the water had already washed out the ground from underneath their by that time, so when they heard the crash, Monico went to check the cause, and he saw their living room collapsing into into the raging current. That was when they decided to evacuate from their home into the empty house next door. "The vacant house truly was a God-send for us. It not only served as our shelter after our house collapsed, but it serves as our temporary home while we try and rebuild."