M Benido Mendoza, (52 years old) is one of the community partners in the husbandry sector of the Economic Recovery in Leyte (ERL) Project funded by Swiss Solidarity and ADRA International. Mr. Mendoza and his wife live in Barangay Tapol, Leyte. Mr. Mendoza gave us an interview about his life, work and experience with ADRA.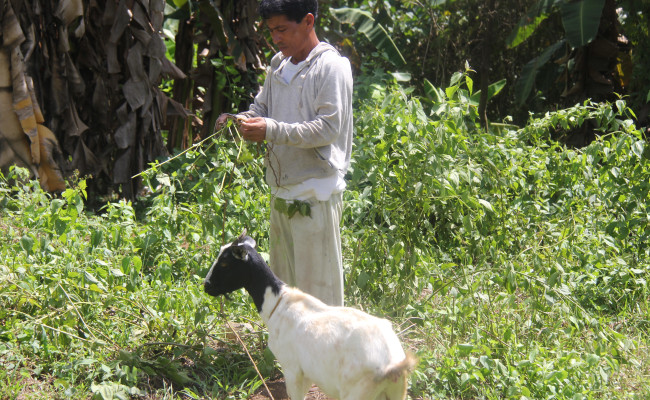 When and how did you start working with goats?
"I started raising goats in 2000. I first became a tenant to one of my friends, with the condition of equal sharing of the offspring. After a year of being a goat tenant, I had a goat shares to almost 4 female goats and that multiplied up to 70-80 goats in about 5-7 years"
Which was the hardest moment of your life as a farmer?
The most unforgettable moment in my life is when Typhoon Yolanda damaged our farm, from which comes most of our source of income. I remember the hardships I had to face as a farmer dependent on the farm, trying to survive since almost nothing remained due to the typhoon.
What were your toughest experiences as a goat raiser?
When I started to raise goats, the challenges that I considered as the toughest is the day that my goats started to experienced diseases. That day, I feel hopeless and was about to give up because I didn't know how to cure my goats. Then I realized that I could go to the Department of Agriculture (DA) and ask for technical support and solutions to my concerns.
Being a goat raiser, how does this livelihood help your family and children?
From when I started in 2000, and before Typhoon Yolanda I had 70-80 goats. Thanks to my hard work and determination to pursue our dreams for my family, my wife and I decided to raise the goats very well so we could send our children to school. My goats are like my bank, I have two daughters, and thanks to our livelihood my daughters finished their college education. We sold the goats to pay their tuitions, allowances, and other educational expenses. Also, through goat raising livelihood, I became a model to my neighbors showing them that poverty is not a barrier to achieve the goals and dreams of our families.
What can you say about your present goats received from ADRA?
I want to say, thank you so much ADRA for giving me the chance to raise goats as our livelihood. I promise to take good care of these goats for the future of my grandchildren and of my family.