A ceremonial signing of the Memorandum of Agreement (MOA) for the tripartite partnership between the Provincial Government of Cavite, the Adventist Development and Relief Agency (ADRA) Philippines, and the Humanitarian Leadership Academy (HLA) Philippines, was done on May 28, 2018, in the Office of the Governor in the Cavite Provincial Capitol, Trece Martirez City, Cavite. This MOA signing was a symbolical event that formalized the ongoing teamwork behind the project implementation of Project VIPER (Vulnerability and Impact Reduction for Earthquake).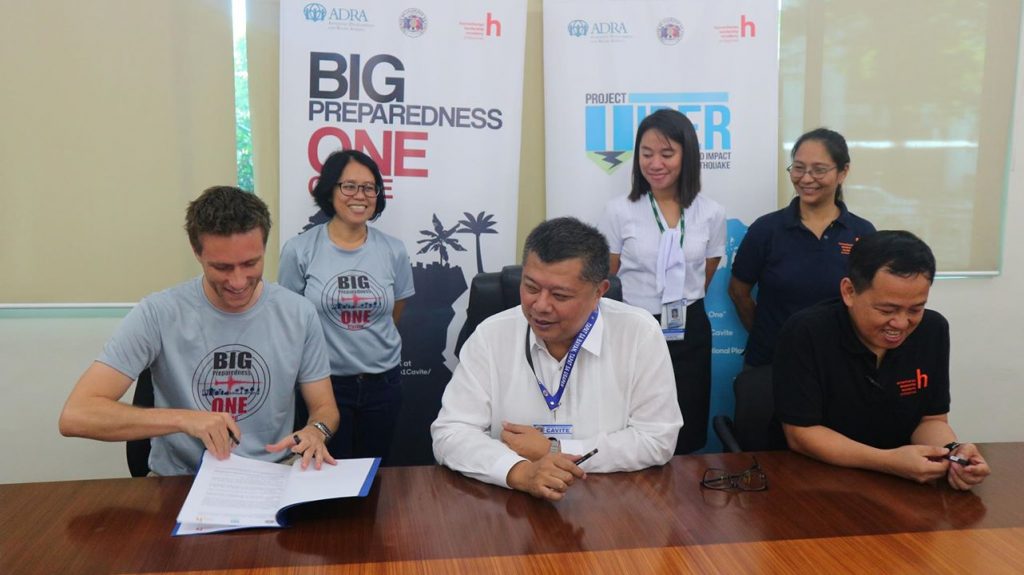 Cavite Governor Jesus Crispin "Boying" Remulla signed the MOA together with ADRA Philippines Country Director Tom Pignon and the HLA Philippines Director Diosdado "Dong" Waña. Also present to give support were Project Viper Coordinator and ADRA Disaster Risk Reduction Specialist Geraldina "Levy" Gutierrez, HLA Marketing and Communications Specialist Mary Ann "Maeanne" Llanza, and Provincial Government of Cavite Office of Public Safety (PG-COPS) Office-in-Charge Claudette Trixia Flores. Project VIPER was first conceived during a 1-day colloquium held almost a year before on June 6, 2017, which tackled the 7.2 Magnitude Earthquake or also known as the "Big One" and how prepared the province of Cavite is to tackle this on-coming crisis. The event organized by the three organizations (Province of Cavite, ADRA & HLA) and was attended by 167 participants from twenty-three (23) cities and municipalities of Cavite, twenty-five (25) participants were members of the Provincial Disaster Risk Reduction and Management Council and twenty (20) were representatives of Civil Society/Non-Government Organizations in province. A project inception was then held on September 22, 2017 to discuss the different activities, timeline, and schedules that would make up the implementation plan to achieve the three project outputs which are:
Development of a Contingency Plan on 7.2 magnitude earthquake;
Strengthen the Humanitarian Coordination Model in the Cavite; and
Inclusion of Cavite in the Harmonized National Plan.
Project VIPER is expected to conclude by end of June 2018.