The European Union (EU) delegation, led by the Ambassador His Excellency Luc Veron, visited the EMPOWER project area in Itogon, Benguet, last October 22, 2021. The people of Itogon, headed by the Municipal Mayor Hon. Atty. Victorio Palangdan warmly welcomed the delegation. Both heads delivered their message of gratitude to each other for the support in the ongoing project and expressed commitment to other endeavors that will benefit Itogon and the Philippines.
The EU delegation visited the municipality of Itogon mainly to glimpse the progress and achievement of the EMPOWER project, which they are funding in its 30-month duration. An audio-visual presentation showcased the project's accomplishments in all barangays of Itogon and Pinukpuk, Kalinga. The AVP highlighted the learnings and challenges to the 26 EMPOWER Champions, consisting of representatives of CSOs and M/BLGUs in the two areas.
During the program, Training Manuals on Inclusive Disaster and Climate Risk Governance were turned over by the EU Ambassador to the Champions of Itogon. The manual is a result of the rollout training that all the Champions facilitated in the barangays. Additional Inclusive Early Warning Kits were also distributed to the nine barangays of Itogon. These warning kits consist of tools and instruments that can warn people about the hazard to their community. The EU delegation and the Local Government Unit of Itogon exchanged tokens as a sign of appreciation.
Towards the end of the program, the EU delegation and the municipal officials had a Benguet Coffee Toast to showcase Benguet Coffee proudly – one of the farmers' produce in Itogon.
The last stop of the EU delegation was a visit to the Binga Dam and Binga Indigenous Peoples Cultural Heritage Site.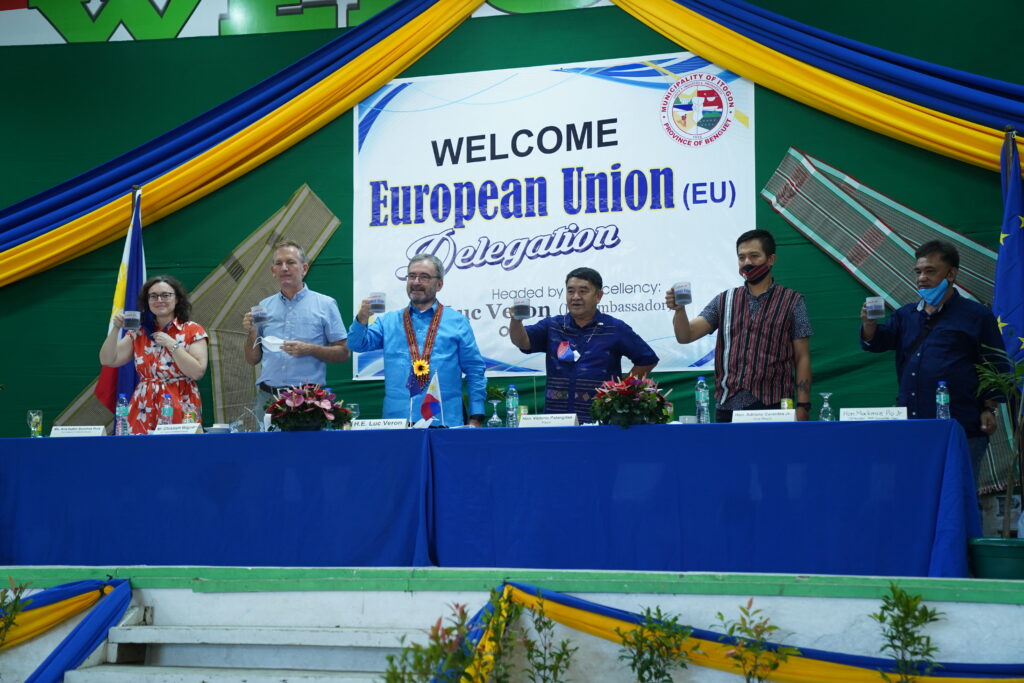 Exchange of tokens between the EU Ambassador, the Municipal Champions & Mayor of Itogon