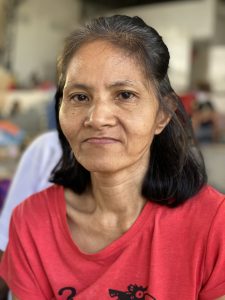 Nadelia Villamin, age 53, was at work as a housekeeper in Talisay, Batangas, when Taal Volcano erupted last Sunday. Her employer told her at around 3pm to call her children and husband right away because Taal Volcano had been spewing out enough debris and ash for Phivolcs (the Philippine Institute of Volcanology and Seismology) to declare an Alert Level 2.
So she called her husband and told him to gather the kids, pack at least 2 changes of clothing each, and secure the house, before coming to pick her up at work so they could evacuate to a higher elevation. It was already 5pm when her husband and kids came for her in their tricycle. A little too late because Taal had already been declared Alert Level 3 and all the cars where trying their best to get to higher ground. They got stuck on the road with other cars while stones and mud coming from the volcano rained down on them. At around 6:30pm after Level 4 was announced, they decided to stop fleeing and look for shelter.
Luckily, a close family friend lived close by, and so they were able to park their tricycle and take shelter. "Hindi aka nkatulog nung gabing yun. Yung lakas ng tama ng abo at bato mula sa bulkan sa bubong, tapos palaging umuuga ung lupa. Nanalangin nalang ako buong gabi na hindi bumigay ang bubong at maligtas kami." "I wasn't able to sleep that night. The ashes and rocks from the volcano were hitting the roof, and the ground kept shaking… I just prayed the whole night for the roof to hold up and for us to be saved."
Thankfully the roof did hold up throughout the night. Due to the black out (no electricity), they couldn't see anything during night. So the only time they saw the extend of the damage was early the next morning. Mud / ash covered everything. The road, the trees, the houses, the plants… everything. They tried their best to clear the surroundings of the house. After they a few hours, they dug out the tricycle, and together with their friend that had given them shelter that night, went to find an evacuation center.
The military, that had already been deployed to help people evacuate the danger zone, pointed them towards Tanauan City which was 15km away but out of the danger zone. It took them a few hours, with all the digging and cleaning of debris from the road, they finally made it to the Old City Hall in Tanauan and where checked-in into the Gym 2 Evacuation Center where they will remain until the alert level is lowered and they are permitted to return home.
Please follow our Facebook Page www.facebook.com/adraphilippines for more updates.