On Monday December 5, ADRA Philippines' EMBRACE project signed into agreement a Memorandum of Association between the project and Partido State University (PSU) Lagonoy Campus. The agreement marks a start of cooperation and collaboration between ADRA Philippines and PSU, and will find ways for the students and staff of the university to become an active part of the EMBRACE project currently helping beneficiaries in the province of Camarines Sur.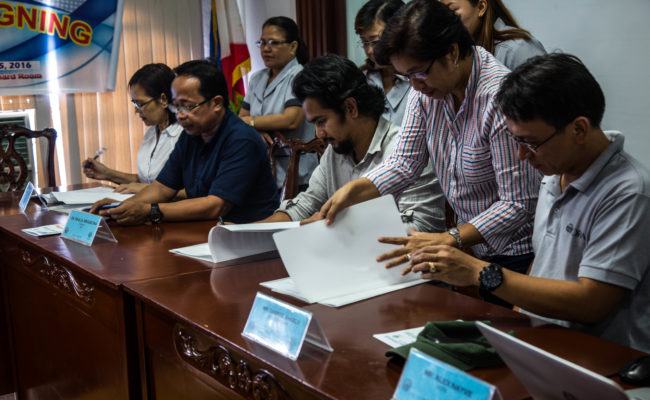 Reflecting on the signing of the agreement, SUC President III Dr. Raul G. Bradecina remarked that the University was excited to begin to work with a "more mature NGO" in their quest to reduce illness, disease and malnutrition in the region. He also pointed to the high incidence of malnutrition in coastal communities and the need to use resources to find ways to combat this.
"Combating maternal-child health and nutrition issues and challenges need people from the different sectors of the society to come together," EMBRACE Project Manager Gabriel Angelo Sembrano stated afterward.
"To think that Public Health is within the confines of the health sector only is futile. Determinants of health are borne out of intertwining underlying factors that are more often than not beyond the reach of health professionals."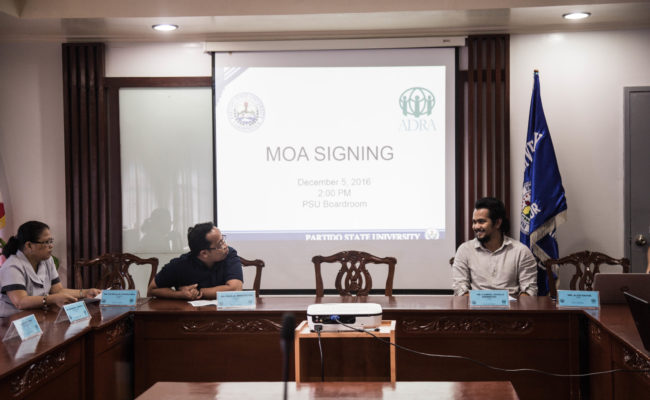 "By partnering with the Partido State University, we have gained an ally in reaching that goal. Through this partnership, the Project will leverage on the innate influence of the academe in inspiring change in the mindset on health and nutrition of our target households, communities at large, local government units, and even other sectors of the society," he concluded.
ADRA's EMBRACE project is centered on improving maternal and child health within remote areas of Camarines Sur and is a partnership between ADRA Canada, ADRA Philippines and Global Affairs Canada.