Balancing on crutches when we arrive, Esther Misolas is tending to her garden and keeping a watchful eye on her young granddaughter who is playing not far from their small home by the side of a busy road.
At fifty-eight years old Esther is the main caretaker for her family of four, and has been ever since her husband suffered a near fatal stroke that left him greatly incapacitated in 2009. Her household includes her son, as well as her young grandchild, who is four – which is where the EMBRACE project comes in.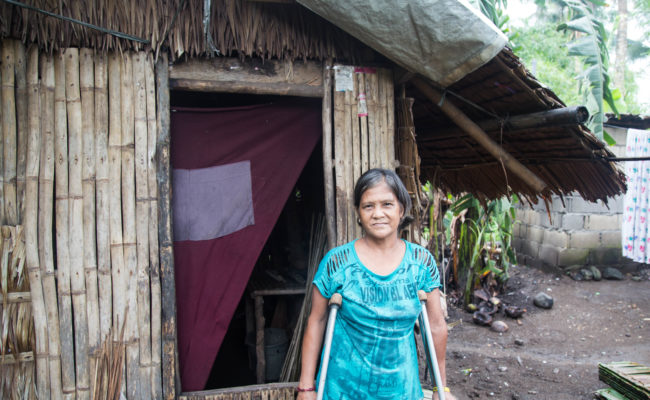 Esther and her family live in a small house made of bamboo and palm leaves near the side of the highway in San Jose. As she shows us around her small plot of land her voice is nearly drowned out by the noise of jeepneys and motor bikes that cruise along a few feet away. As she talks to us her grandchild plays with the neighbours, occasionally running over to inspect what her grandmother is doing, before darting off to hide with the other children.
Despite the challenges that Esther is facing she remains extraordinarily strong, holding a spade in one hand and a cassava root in the other as she talks about her life tending the land in San Jose. When not looking after her family Esther manages her plot of land, growing a variety of fruits and vegetables in a small garden beside her home. These crops will contribute to the family's meals, as well as feeding members of her extended family who live nearby as well.
A full force of nature, despite living with disability herself, Esther also makes Nipa shingles – traditional shingles made out of palm leaves that cover the roofs of houses in many of the homes here in the province of Camarines Sur. These shingles will then be sold at the local market to contribute to the income of their home.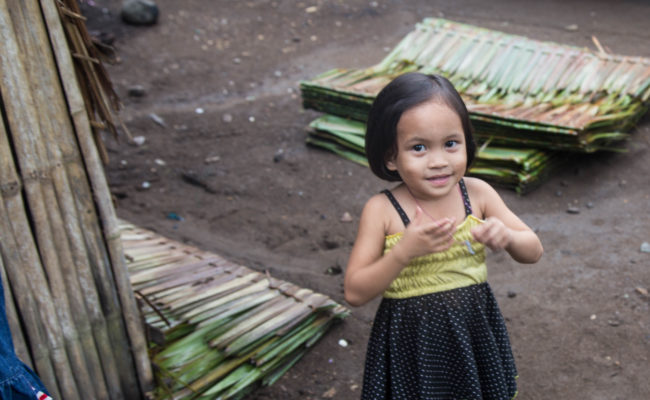 As a loving and guarding grandmother Esther is keen to be a part of the EMBRACE project here in San Jose, where she has spent her entire life, being born and raised just down the road from where she currently lives. She remarks that she is interested to see what ADRA will bring to her community.
While Esther is grateful for the involvement of ADRA in her community, she notes that the only person who can change the course of their life is oneself – help is a beautiful thing but that is not enough if the person themselves will not push for change within themselves.
Esther made is clear that she is in charge of whatever change lies ahead in her life. She declares that she won't stop planting and that she hopes to increase her yield to continue to contribute healthy foods for her family and young grandchild.