It is again the time of the year when we celebrate the women in our society. With this year's campaign focusing on the COVID-19 pandemic, the 2021 Women's Month theme is "Juana Laban sa Pandemya: Kaya!".  We recognize and appreciate the participation and efforts of women in this pandemic.  As we celebrate this year's Women's Month, let us meet Venus and Nenita, two of the empowered women of Itogon in Benguet Province.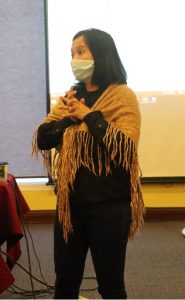 Kagawad Venus Velasco is a member of the barangay council of Gumatdang and a member of the women's organization in her barangay. Ms. Nenita Subaday, on the other hand, is a barangay women's brigade volunteer in Poblacion and is also an active church worker. Both women leaders have been serving the community in Itogon for almost ten years now.  Kag. Venus and Ms. Nenita are also actively participating in the EMPOWER project as Champions.  They are at the forefront of disaster governance.
In the past training sessions of the project, women shared the challenges they face during this pandemic.  Some of the issues include limited mobility, loss of jobs, and conflict during the response. As women play various roles in society, they are greatly affected by these issues. Fortunately, Itogon provides equal opportunities for women and men in multiple aspects.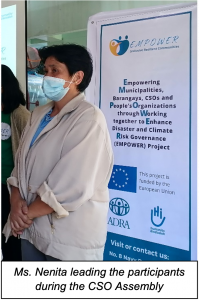 Ms.  Nenita narrated that women also participate in information dissemination, saving lives, and relief distribution during disasters. Kag. Venus also ensures that the community members can cope with disasters' effects by assisting them in livelihood opportunities. Besides their volunteer efforts, they ensure their family and community's welfare by providing emotional and mental strength and being role models of discipline, especially during the pandemic when many rules and protocols are set out. Further, one characteristic that enables the two women to overcome the pandemic is their faith.  In these trying times, they stated, "Sa tulong ng Maykapal, kinaya ko!"
For Kag. Venus and Ms. Nenita, women are empowered when they take on their roles in their community effectively. As a single mother, Kag. Velasco strives to juggle barangay, organization, and household work. Similarly, Ms. Nenita helps her husband in his work, teaches in the church, and fulfills duties as a purok leader. Having these multiple responsibilities in their hands, they have no complaints; instead, they enjoy them. Working for and with the community is something they treasure.
Being empowered entails sacrifices on their part. However, they deem it is worth it.