The Stronger Together: Race for YOUmanity, an 8-week virtual "race for a cause" organized by ADRA Philippines, was held from July 18-September 12, 2021. Using the AtlasGo App, the participants were able to easily monitor the ongoing team race, and it allowed them to create "sweaty selfies" to share with other participants. The Race had 2 challenges, the TEAM challenge of 3,517km (which is equivalent to the Maharlika Highway ) and a SOLO challenge of 500km that can be achieved whether they are a part of a team or not.
The race was supported and promoted by the Southern Asia-Pacific Division (SSD) Health Department as a part of the Family Fitness Month (August). This encouraged more individuals to join the event.
After the Race, some of the participants share with us that participating in the race motivates them to move and to stay healthy despite the pandemic, to get away from the burnout of work, develop friendships among colleagues, and also give more time with God.
TEAM Challenge Finishers:
1. Advent Bikers Community – a team from Southern Mindanao Mission in (General Santos City and Cotabato City) that successfully achieved the 3517km goal in 2 weeks! -8864.59km
2. LuzMin Team– a team made up of individuals from Luzon (Pasay) and Mindanao (CDO and Valencia) and reached the team goal within 4 weeks. -5243.83km
3. ABDM Family Team– a family team with members from different countries (Philippines, Macau, Thailand, and the US) that achieved the team goal in 4 weeks. -4995.77km
4. Padayon Team– a team made up of young adults from Silang, Cavite that reached the team goal with 5 days left in the Virtual Race. -3733.89km
5. iMove Team– a team with most members working as frontliners in Pasay, Palawan, and California that surpassed the team goal until the last 2 days of the Virtual Race. -3721.50km
6. Adventist Runners Club– the first full team with 10 members to join from Mountain View College and Valencia City. -3640.50km
SOLO Challenge Finishers:
1. Edilberto Tangayan Jr. -2746.76km
2. Glenn Villasante- 2314.88km
3. Ramie Gerong- 1681.70km
4. Edwin Molina- 1545.47km
5. Jimmy Bagni- 1494.48km
6. Aimee Tapeceria-1478.64km
7. Emm Suarez- 1406.61km
8. Jasper Dave Almocera- 1366.85
9. Winly Joyce Molina- 1196.44
10. Chard Alas- 1078.85km
11. Randy Ramas- 1044.23km
12. Earll Justin Data- 1015.85km

13. Cineo Tapeceria- 991.15km
14. Rony Rodriguez- 908.26km
15. Vincent Manez- 889.26km
16. Edwilie Seliote- 843.00km
17. Jezreel Importante- 837.43km
18. Enrile Yata- 814.09km
19. Aldwin Tapeceria- 781.09km
20. Joseph Aaron Urlanda- 739.64km
21. Daniel Domingo- 724.75km
22. Michelle Lee Matias- 711.63km
23. Keraklisia Bae Adil- 708.84km
24. Katrin Joy Lucas- 694.89km
25. Wilder Ray Arano- 666.89km
26. Jobennie Dela Cruz- 594.20km
27. Jullian Ross Alfanta- 574.89km
28. Kaycee Tapeceria- 544.16km
29 .Zhunri Salinas- 543.34km
30. Naedilyn Molina- 539.90km
31. Sonny Quicoy- 524.80km
32. Junree Dogcio- 503.74km
33. Gerwin Seco- 503.48km
34. Ronn Andrei Quicoy- 503.30km
35. Karl Junnel Cagubcob- 502.06km
36. Jc Camay- 500.29km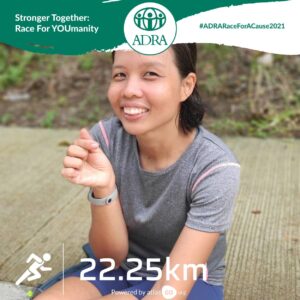 "Running for me right now is not just a physical exercise anymore; it's more of a spiritual one for me. I have made my runs much more like my time with God."
– Michelle Lee Matias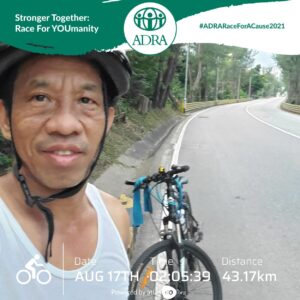 "I am very happy that I was part of this program and that I have experienced good for my health and became stronger as well. Although this is not a competition, if you see the other team's progress, you are also being motivated to do more."
– Edwin Molina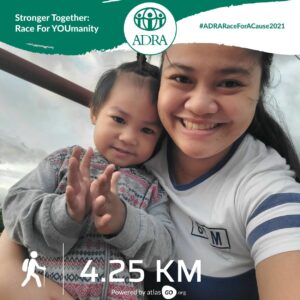 "I'm really happy because, in this activity, I have been more motivated to do more exercise especially walking. I have been able to start a good track and to have a healthier body and lose some weight."
– Katrin Lucas.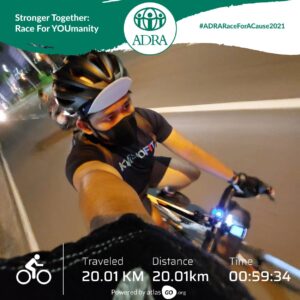 "As a front liner in the middle of the pandemic, I'm very blessed to be part of this race because I have the motivation to ride the bike and get away from the burnout of work. With this Race for Cause, the more I appreciate the creations of God and saw the blessings despite the pandemic."
– Earl Data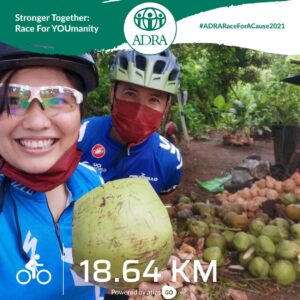 "This Race for YOUmanity helped me to stay fit despite the pandemic since most of my work is sedentary. It allowed me to get up, be on the move, and most especially reached my personal goal and exceed it, and contribute to the greater good of ADRA.
– Richelle Gerong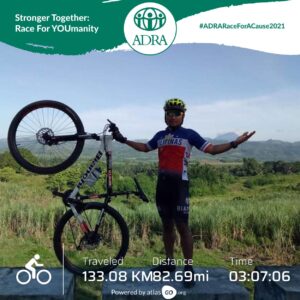 "Thank you for facilitating this race. We are not just here to accept the challenge, to finish the target goal but because we believe this will also contribute good benefits to have a healthy body. And of course, It also develops friendships, closeness among bikers, camaraderie. In one way or another, we can share the message of God to one another."
– Jun Tangayan