Recently, I visited families we have been assisting in Bicol – a region still recovering from the series of typhoons that devastated the area last year. I wanted to hear from the families personally that we're assisting and see for myself how we'd been able to help. Following the onslaught of Super Typhoon Goni (local name Rolly) in November 2020, ADRA has been working closely with international NGOs Oxfam and World Vision, together with local partners Coastal Core and Peoples' Disaster Risk Reduction Network, with funding from the European Civil Protection and Humanitarian Aid Operations (ECHO), to provide aid to the most affected communities. These included communities in the provinces of Albay and Catanduanes, and where I visited, Camarines Sur.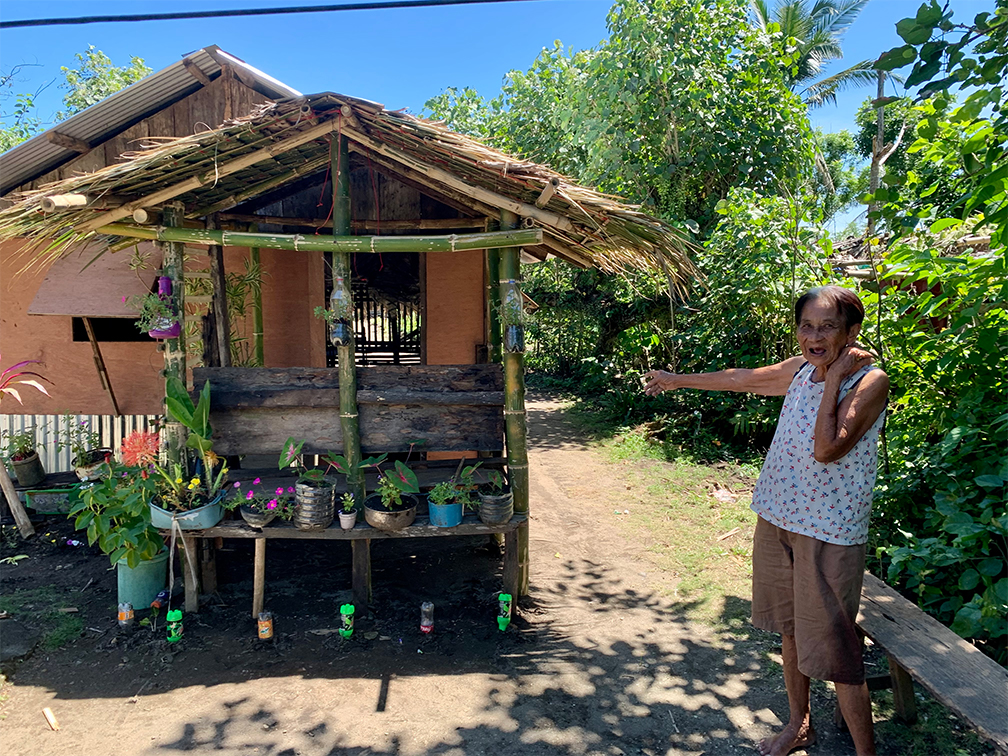 I was touched to meet a kind, elderly widow who had lived alone with her grandson in a flimsy house, about the size of a garden shed. To look at her, she was poor with very few possessions. But it wasn't till I started chatting with her that it dawned on me just how poor she was. The government gives her a small amount each month (P500), while her daughter, who works in Manila, sends home a little extra support (ranging from P1,500 to P3,000), which brings her total monthly income to around P3,500 maximum. Shocked at this meager amount, I naively asked about other sources of income. There were none. She survives on this amount… and only just survives. She cannot afford three meals a day and instead gets by with only two—just a bit of rice with a little vegetable or piece of fish.
So when her house was blown down, there was no way she was able to rebuild or repair the ruins. But ADRA was able to help. We gave her roofing sheets and plywood to repair the walls, along with tools so that a neighbor could help her out. She still lives in a small house, but it's been built back better, so she will be less vulnerable when the next storm comes.
Out of all the people I met during my visit, another lady stood out. This time a much younger lady, holding her 4-month old son. She was a single mother who had to endure the powerful typhoons just two weeks after giving birth. This strong young lady usually earned a small wage in the fields around her home as a farmhand – just enough to provide for her and now her baby. But the typhoons had destroyed the crops, so the past four months had seen her with very little work. There was no way she could afford the repairs needed to her home, but we've been able also to help her rebuild her home.

These were just two ladies out of the 9,000 families who've been assisted in rebuilding their homes by the ECHO project in Camarines Sur, Albay, and Catanduanes. We've also provided toiletries to those who had no money to replace what they'd lost. And psychosocial support to those still processing the trauma of what they experienced.
Many people that I met were either fishermen or farmers. What they caught in the sea or harvested in their fields was the only food they could afford. That lost ability is lost not just in the day or week following the storm but can continue for months afterward. So, ADRA, Oxfam, and World Vision have been working to support 9,000 families with cash for a month's worth of food. Giving these families the breathing space to put their lives back together.
With the project's significant activities completed, it was encouraging to see and hear how our consortium, funded by ECHO, has helped these families after their homes and livelihoods were destroyed. Life-saving assistance indeed!
-Tom Pignon, Country Director
ADRA Philippines